Within the CSR, the association supports the informal Romani dance ensemble Romani VOJA.
The Romani Voja ensemble was established during May 2021 as part of the activities of the leisure center of a member of the association of the non–profit association SERENDIPITY z.s. in Přerov with Roma children. After the establishment of the Association, she did not hesitate for a minute and decided to support the dance ensemble within its CSR. The original intention of leisure activities for Roma children concerned children only at the 1st stage of primary school with generally focused leisure clubs. However, older children also suddenly started attending their leisure activities and wanted to get involved. But how to tame spirited teenage "children" full of life and energy?
Our Roma leisure workers Mrs. Jana Pačajová and Mrs. Marcela Bernátová came up with the idea of a dance group. In the beginning, they practiced on the field. The enthusiasm of children, parents and leisure workers was huge.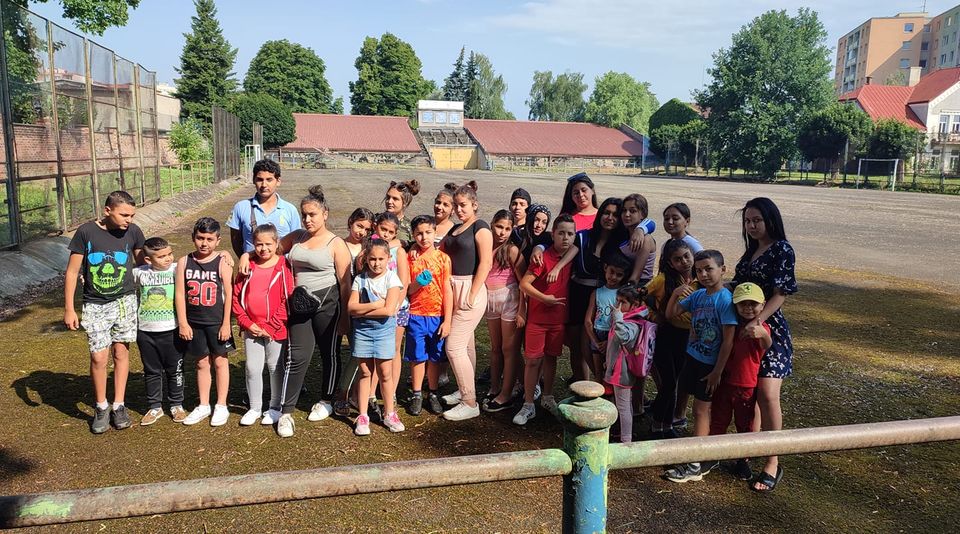 Přerov – Sokolská zahrada 5.7.2021
In the photo are our children. The way they came to us and wanted to do "something". Not only sitting in class, they have had enough of school 😊 And also their huge temperament, which caused that while the children were just getting started, the adult leisure workers were already falling tired. How to tame this group without falling for the homeland and at the same time do at least a little meaningful work? And what to try dancing? So not just any dances, but real, Romani dances!
And how do such dances dance? This was followed by a practical demonstration of dance creations shown to us by a student, the daughter of one of our employees. Loudspeakers arrived, the music began, and the first steps began to be rehearsed. This was also followed by a move to other areas, as loud music was not very popular in the densely populated area. We also decided that it would be necessary to provide children with costumes. That is, mainly skirts. Real, Romani skirts even with "cingrlátky", without it it won't be real walnut. A dedicated Roma grandfather got the skirt in Brno, where they sewed it for us.
And the right rehearsal has already begun. Some children did not survive and left. On the other hand, as the "fame" of our dance group spread through Přerov, there were plenty of other interested parties. Eventually, the composition of our circle stabilized.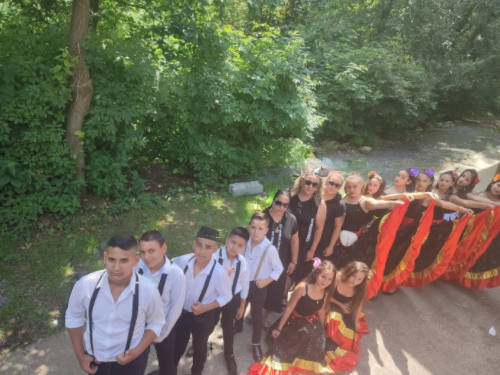 Summer amphitheater Nový Jičín–Skalky 2021
In addition to dancing, we went with the children on a trip to the ZOO, to Prague, and went to the swimming pool. Probably no one would be able to practice in the summer heat all day. One humorous story from training. The children are rehearsing, they are rehearsing, and the instructors still don't think so. It is still not very coordinated how children can be such woods at all. In addition, they whine that it is hot and that they can no longer. Today's youth can't stand anything! In the end, it is decided that one teacher will personally demonstrate how to do it. Let the children see what the older generation can do. She puts on her skirt and enthusiastically throws herself into dance creations. But, what is it? After a 4–minute temperamental dance, the teacher also starts to breathe. It seems that Romani dances are demanding on fitness. The children are mischievous. Some show it, some can subtly laugh in the corner.
Eventually, the circle moved under the auspices of the newly established Association of Roma Music Artists in the Czech Republic. And the children began to want their dancing to be seen by someone other than their parents and instructors. So it was decided that the dance ensemble will perform at the International Roma Festival Nový Jičín – Skalky 2021 http://www.romea.cz/cz/kalendar-akci/igor-kmeto-jan-bendig-nebo-dini-kosice-vystoupi-ne-mezinarodni-romskem-hudebni-festivalu-v-novem-jicine.
It was quite a bold decision, professional ensembles and singers, such as Jan Bendig, perform at the festival. Will our children not be ashamed there? After all, they rehearsed the whole choreography in costumes less than 3 weeks before the performance.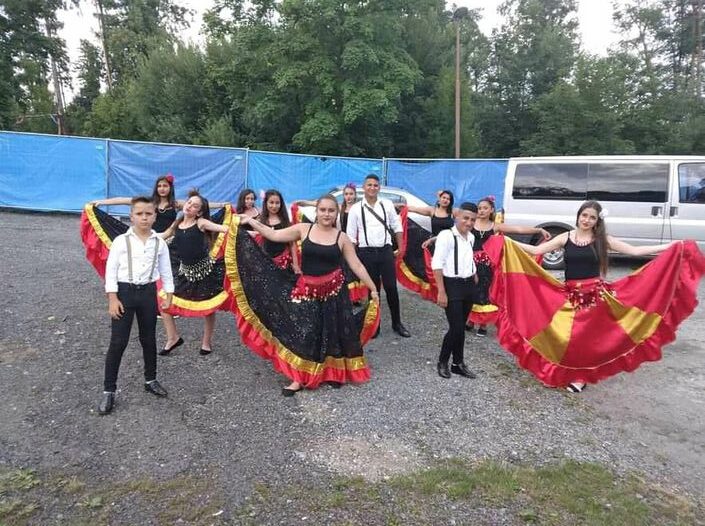 Summer amphitheater Nový Jičín–Skalky 2021
They did not be ashamed. On the contrary, all of a sudden, as a miracle, thriving teenagers become responsible artists. They have an important role to play and are aware of it. The children surprised us very nicely, we really didn't expect this. Their enthusiasm and energy were transferred to their parents and dance instructors. It is a great pleasure to see the fruits of one's labor.
Since September 2021, our dance group has grown with new applicants and rehearsals took place 3 times a week. Unfortunately, we could not perform much, due to the persistence of measures related to COVID – 19, many cultural events were canceled. But we managed to perform at least on October 16, 2021 at the Roma Ball in Přerov and on February 17, 2022 we performed in the gym of the Božena Němcová Elementary School in Přerov at the Cultural Besidka for primary school pupils and teachers. The meeting was a great success and we received positive feedback from both children and adult viewers.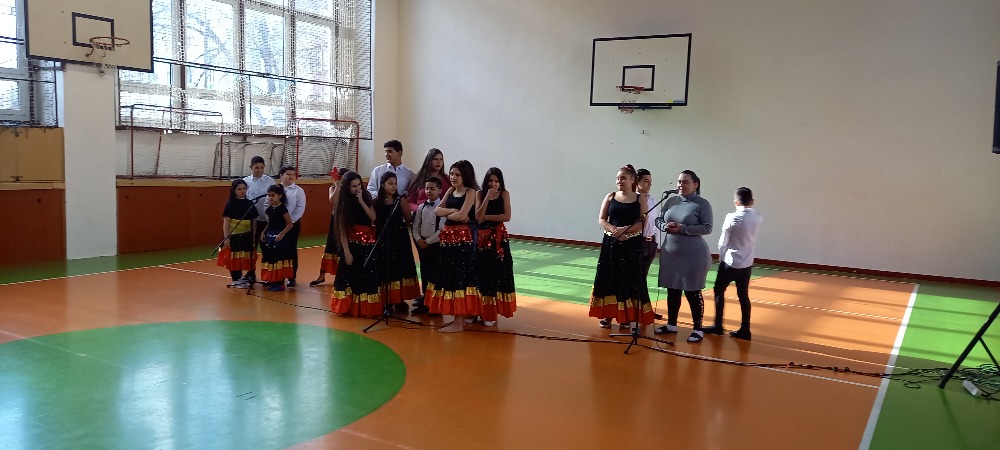 Dance ensemble Romani Voja  17.2.2022

Asociace romských hudebních umělců v ČR z.s.
Boženy Němcové 1651/7, 750 02 Přerov
IČO: 10994769
Data box: xcmbpfd